S & J Resin Bound Driveway Specalists – A brand you website
We are pleased to let you know that we have been able to deliver another website designing project at lightning speed. This project was for S & J Resin Bound Driveway team. We have produced as many as 1000s of websites till now. However, this project was completely new. Initially, we had no idea of their business because it is such a niche area.. While trying to create a great website, we learned a lot about the company and its preferences. Finally, we could see excellent results- a blazingly fast website and another happy client.
How are we helping S&J Resin-bound Driveway to grow its business online?
These days, it is essential for all businesses to have an online presence, and this is true even for brick-and-mortar stores that do not conduct e-commerce. While designing a website, we keep the following things in mind:
We create a website that is mobile responsive.
A website needs to be mobile responsive. A survey was conducted on American adults, saying they spend as much as 5 hours on their mobile phones daily. As many as one-third of them shop online through their mobile device. Therefore, it is pretty evident that the website of a particular business should be able to provide a positive user experience at the very first go. When potential customers land on your website but find it difficult to read or navigate on a mobile device, there is a high possibility that they will abandon you and opt for the services of your competitor. Moreover, a negative mobile user experience will affect your website in terms of the search engine rankings, making it more difficult for the users to find a thorough google search. We ensure that the website is highly responsive and the users can get a seamless navigation experience.
We also ensure that the website is easy to find
We provide you with a domain name that matches your company's name or describes your business in some way or another. We also provide you with multiple domains that point to your website. This means we incorporate the best SEO practices and do proper keyword research, content marketing, and paid advertising campaigns for our clients. This will attract audiences to your website.
We place your contact information above the fold.
If the business depends on people contacting you or calling your sales team, we also ensure that we put the information where your target audience can find the information quickly. Again, if you use social media to connect to the customers, we put the social links in the header or the footer of your website where they are easily visible.
We also create a website that is easy to navigate.
When we design a website, we limit your top-level navigation menu to 5 clearly labelled tabs with related pages organized under them. We also offer an obvious way to get back to the home page irrespective of whichever page the reader lands on, as there are times when the google search might take your reader to a different page other than the home page. People scan the web pages from top to bottom and from left to right. So we put the navigation menu where most people can locate it. We also use drop-down menus if required under the top-level category for clean and organized navigation.
We set a call to action.
We ensure that each page on the website entices the reader to do something. We, therefore, provide them with a call to action. These landing pages encourage the users to take a specific action like a signup service or call to a company, buy a product, etc. We provide a noticeable invitation to readers to take relevant action- a button, a link, or clear verbiage. We also keep this above the fold so that the readers do not have to scroll down before finding a call to action.
We keep the website design simple.
We limit fonts, colours, and GIFs because these can pull the eyes away from the primary focus of the webpage.
Challenges that we faced during the creation of the website page of S&J Resin-bound Driveway
We did not know much about the work that S&J does, so we had to invest a lot of time researching the product and target market. We had to initially get in touch with the company's marketing head to understand their needs. However, after all these challenges, we completed the work successfully.
Website Speed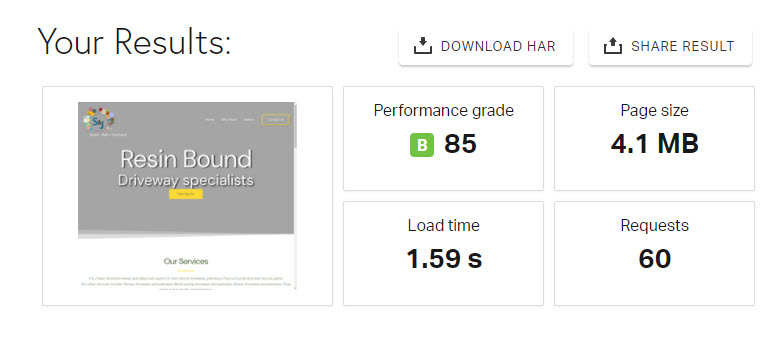 Customer Review